Aaron BLABEY (b.1974)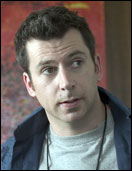 Winner of 'The Children's Book Council of Australia' book of the year, 'Early Childhood Prize' 2008 for 'Pearl Barley and Charlie Parsley'
Aaron Blabey is a well-known Australian actor now winning acclaim with his unique paintings of the female form. He is a lover of all women and paints them with swirling curves doing everyday things.
Having worked for 13 years in film, TV and theatre, and having viewed the ruthless entertainment industry from within, he became appalled by its concept of body image, the stress that it put on his female colleagues to comply, and the insecurities it caused.
He says: "The entertainment industry creates the most extreme scenario for women to have the spotlight on their imperfections, and it never ceases to amaze me how the most divine, curvy, feminine goddess can be made to feel 'fat' or 'ugly'."
This was the starting point for his exploration of a central character, the "dark haired girl". She first appeared in 2004 in a solo show in Adelaide and was received very well. The paintings are stark, devoid of any element other than the figure in an empty space. A later series places her in the bathroom, bedroom and lounge.
Blabey won the 1995 AFI Best Actor Award for his performance in the title role of The Damnation of Harvey McHugh. In 2000 he was nominated for an AFI Best Actor Award for his role in Stingers and has appeared in Through My Eyes - The True Story of Lindy Chamberlain, Crashburn, All Saints, Wildside and Phoenix, and movies including Mullet and The Human Touch.
He says his work is a celebration of imperfect feminine beauty in all its forms. He glorifies woman, insecurities and all, in the face of the media's relentless promotion of unrealistic perfection. To him, all females are divine, curvy, feminine goddesses.
Following on from his aclaimed latest 'Small' series of paintings, Aaron is the author of two popular children's books 'Pearl Barley and Charlie Parsley' & 'Sunday Chutney' Penguin/ Viking 2007 & 2008.
To read more about Aaron's Acting, Painting, Writing & Illustration career follow this link.
Additional information