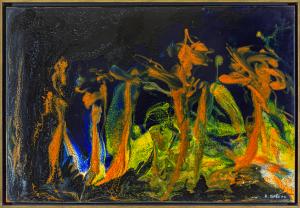 MATTER PAINTING
Ralph BALSON (b.1890; d.1964)
About
The Australian Fine Art Gallery Online
Art Nomad

is a leading Virtual Art Gallery, specialising in notable works by selected prominent, collectable and contemporary Australian Artists.

Our website offers the astute art connoisseur an easy and simple high quality viewing experience 24/7 wherever you are. Browse through our collection, by Artist, Genre, Medium or Price.
Whilst the internet provides a plethora of browsing options to suit many purchasers, we understand that the purchase of 'fine art' may involve the tactile as well as the visual impact.
Art Nomad is proud to offer our private viewing studio, open by appointment.
What makes Art Nomad standout from the rest?
Art Nomad owns 99.8% of the artworks listed in our collection;

We do very few consignment sales;

When you negotiate a price with us, you're dealing with the owner, who's already made a very conscious value decision and not a middleman;

When you buy that precious artwork from us, you're buying something we've already invested our hard earned funds into;

If you buy an artwork from us, for $5,000 or more and want to swap it or trade it in, you can, we guarantee the full purchase price (excluding any delivery charges), as a trade-in on any other artwork in stock;

When you visit our virtual gallery, it is always up to the minute up to date, unlike many websites If it's not marked "Sold", it is actually in stock and available for purchase.
Whether you're looking for that special piece to compliment your home, a signature work for your office or that important addition to a Super Fund investment portfolio, we can arrange a viewing to suit your needs.

If you're not quite ready to purchase, but would like to be kept up to date on the works of a particular artist or genre, we invite you to use our "Contact Us" function and let us know.
We guarantee the authenticity of all the works we sell, backed by a full money back policy.
We have a full exchange service for original artworks, if the customer would like to swap or trade-in their purchase on another artwork in stock, subject to conditions.
Payment options:
Art Nomad offers the flexibility of a time payment option, subject to terms and conditions. We accept payment by BPAY or direct bank transfer and Visa or Mastercard for select transactions. Credit card payments are subject to a surcharge.
We can arrange Delivery to anywhere in the world, often in a matter of days, try us!
Join our mailing list to be kept up to date
with Art Nomad's latest stock arrivals and special offers
!