Arthur Merric Bloomfield BOYD (b.1920; d.1999)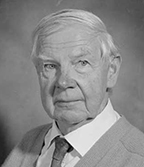 Arthur Merric Bloomfield Boyd was born at the family home, Open Country, in Murrumbeena, Melbourne, on 24 July 1920 to artists Merric and Doris Boyd. His paternal grandparents, Arthur Merric and Emma Minnie Boyd, were also artists. Arthur grew up amid the smell of linseed oil and paint, painting from when he was old enough to hold a paintbrush. At Open Country, the family lived in an environment where everyone was encouraged to paint, draw or model in clay. Arthur's brothers, David and Guy, both became artists who also had successful careers. *
After leaving Murrumbeena State School, where he won the 1st Award for Art for three years in a row, Boyd worked in his uncle's paint factory, and his wages were used to support the family. He spent his spare time painting self-portraits and portraits of his siblings and briefly attended night classes at the National Gallery Art School, Melbourne. Following the death of his grandmother, Emma Minnie, in 1936, Boyd moved to live with his grandfather, Arthur Merric Boyd, at Rosebud on the Mornington Peninsula. With his grandfather's encouragement and tuition, Boyd painted landscapes, coastal views and family portraits. *
In the late 1930s, Boyd moved to inner-city Melbourne where he met European refugees, such as artist Yosl Bergner, who introduced Boyd to such writers as Dostoyevsky and Kafka as well as other upcoming artists.** Some of his urban paintings of 1938 and 1939 show the new direction of Boyd's art: the dark backgrounds shrouding heavily outlined heads distorted by anxiety or cruelty, or some other existential turbulence from deep within the individual.*** Boyd noted that Bergner encouraged them to go be¬y¬ond their trad¬it¬ional landscape style; he introduced them to soc¬ial commentary about the human condition, thus changing Australian art.
Boyd's innocence was shattered with the outbreak of World War 2 when he was conscripted into the Cartographic unit of the Australian Army. Boyd did not see active service, but the war supplied the subject matter for his paintings of the 1940s, which featured the crippled and wounded in turbulent settings. ** Whilst placed in the Cartographic unit at Ballarat, Boyd met John Perceval. Later he transferred to the Melbourne Cartographic unit and he and Perceval attended evening life drawing classes together with Yvonne Lennie, his future wife, and became friends with other artists, including Sidney Nolan, Joy Hester and Albert Tucker.
After the war, Boyd lived at Murrumbeena with Yvonne, who he married in 1945. He established the Arthur Merric Boyd Pottery Workshop there, with John Perceval, Neil Douglas, Peter Herbst and others. **
In the 1950s, Arthur travelled to Central Australia, where he experienced Aborigines for the first time. He was shocked by their living conditions. * This experience initiated the Love, marriage and death of a half-caste series of 31 paintings, also known as The bride, which imagined the figure of an Aboriginal person of mixed descent as a neglected outsider. The series was exhibited in Melbourne in 1958 where it raised contentious issues about the ongoing marginalisation of Aboriginal people. **
Boyd was associated with the Antipodeans, a group of painters founded in 1959 and championed by art historian Bernard Smith, who attempted to promote figurative art at a time when abstract painting and sculpture was in the ascendancy. The group had an exhibition at the Whitechapel Gallery in London in 1959. ** Following its success, in November 1959, Boyd travelled with his family to England, supported by a stipend from Australian Galleries. He received immediate critical acclaim with his first solo exhibition in London of The Bride paintings in August 1960. Whilst in London, as well as paintings and ceramics, Arthur's work included theatre design, such as the sets and costumes for Robert Helpmann's ballet Electra, and collaborations with Australian poet Peter Porter. The Boyd's also travelled to Europe, visiting Assisi, leading to the St Francis series.
After returning from overseas in 1971, Boyd took up a Creative Arts Fellowship at the Australian National University. In 1973, he bought a property, Riversdale, on the Shoalhaven River, and then later, in 1979, also bought Bundanon, and combined the two as his Australian base whilst still spending time in Europe. During his time at Bundanon he rediscovered the Australian landscape that would preoccupy him for the rest of his life, creating breathtaking works recognised for their brilliant use of colour.
Before his death, he gave his beloved home to the Australian people as a refuge for artists and musicians and an education centre and gallery. He died on 24 April 1999, knowing the place he loved so deeply would be enjoyed by generations of people to come, providing the creative impulse for future artists.
Boyd's first solo exhibition of oil paintings was at Westminster Galleries, Little Collins Street, Melbourne in 1937 followed by a full-scale exhibition at Athenaeum Gallery, Collins Street, Melbourne in 1940. He then exhibited with the Contemporary Art Society in Melbourne and Sydney in 1942. From then, he held numerous solo and group exhibitions throughout Australia and in London, Edinburgh and Japan including retrospectives at David Jones' Art Gallery, Sydney, in 1950; London's Whitechapel Gallery in 1962; and both the National Gallery of South Australia, Adelaide and the Museum of Modern Art and Design, Melbourne in 1964. A major retrospective of his work was held at the Art Gallery of New South Wales in 1993. **
Boyd won many art prizes including the H. C. Richards Memorial Prize for Painting in 1963 and the $10,000 Britannica Australia award for the arts in 1971. He represented Australia at the Venice Biennale in both 1958 with Sir Arthur Streeton and in 1988 with eight major works. Boyd was awarded an Order of Australia in 1979 and the Companion of the Order of Australia in 1992. He was made an Honorary Doctor of Letters by the University of Melbourne in 1984. On 26 January 1995 Prime Minister Paul Keating announced Arthur Boyd as Australian of the Year for his contribution to Australian art and the generosity of his many gifts to the Australian people. In January 1998, Arthur was named Australia Post's 1999 Australian Legend and was represented on a stamp set. *
Boyd was commissioned to produce many important works in his lifetime including the Grange Mural, incorporating the biblical stories of Susannah and the Elders, The Prodigal Son and the Assumption, for his uncle, the writer Martin Boyd, at the Boyd old family home at Harkaway, outside Melbourne in the 1940s; a major ceramic commission for the Melbourne Olympics in 1956; the design for the tapestry for the Great Hall of New Parliament House in 1984 (installed 1987); 16 canvases for the foyer of Victorian Arts Centre in 1984; and the painting Earth and Fire for the cover of TIME Magazine 28 November 1988 issue.
Boyd aimed to convey an inner emotional vision through his work, rather than describing the external world. He painted lyrical and emotive allegories on universal themes of love, loss and shame, often located in the Australian bush. These artworks drew on a wealth of literary and mythological sources as well as intensely personal and often ambiguous symbolism reflecting family relationships, values and religious beliefs, and symbolise human passions such as love and aggression, good and evil. **
Boyd had a strong social conscience and his paintings engage deeply with humanitarian issues. He believed art should serve a higher purpose and raised issues such as the treatment of mixed-blood Aboriginals and Australia's involvement in the Vietnam War.
His early works drew on his war-time experiences and his travels through central Australia and Aboriginal communities. In the late 1940s Boyd turned to the Bible as a way of expressing the horror and suffering of war. Paintings such as The expulsion, 1947-48 draw on biblical narratives of punishment and depict nature as an overwhelming force controlling the individual. **
In the foreword to the 1993 major retrospective of Boyd's work, Edmund Capon, director of the Art Gallery of NSW said: "Few Australian artists have cast their vision across so broad a landscape of ideas and traditions, both real and mythological, as Arthur Boyd, and few have sustained their creative powers with such force and energy". ***
Boyd's works are represented in Collections across Australia, including the Art Gallery of New South Wales, the National Gallery of Victoria, the National Gallery of Australia, the Art Gallery of South Australia, the Art Gallery of Western Australia and many other state and regional galleries, corporate, university and significant private Collections throughout Australia and at the Tate Gallery in London. *
Arthur Boyd timeline, The Boyd Family, Bundanon Trust ** Biography, Artist profile: Arthur Boyd, The Art Gallery of NSW *** Arthur Boyd: An Obituary, Sue Smith, Grafico Topico, 27 April 1999
Additional information