Mila GRIGORIEV (b.1960; d.2021)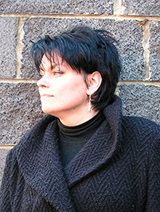 Mila Grigoriev is a relatively recent and welcome addition to the Australian art scene after a unique journey of development that began in her native Ukraine in the early 80s.
She completed a degree in Linguistics in 1982, but shortly after was drawn into the rarefied world of art restoration. This gave her an intimate appreciation of the fundamentals of a painting's construction, which has stood her in great stead in her own artistic career.
In 1984 she began working as an artist-restorer at the State Historical Museum at Kievo-Pecherskaya Lavra, a magnificent 1000-year-old gilded-dome monastery overlooking the Dnepr River in Kiev. Over the years, she took a series of courses, qualifying in 1994 as an Artist-Restorer of Easel and Tempera Paintings, Advanced Level.
In 1996 she left the Ukraine and set up a Fine Art Restoration and Conservation practice in Auckland, New Zealand, before shifting to Melbourne in 2003 and establishing a similar business there.
In between, she has been developing her own skills, exhibiting in various group shows in Kiev from 1990 to 1994, and drawing praise for two solo exhibitions in Auckland in 1999 and 2001, and her contribution to a 2000 group show, Icons Sacred and Profane.
Her latest works were warmly received in Add Red, a solo exhibition at Melbourne's Blacksphere Fine Art Gallery in 2005.
Although religious icons such as the cross often feature in her works, Mila Grigoriev's ultra-contemporary style is far removed from the traditional paintings she worked on at the monastery.
She uses slabs of colour, often emerging from a dark background, to explore concepts of time and aspects of nature such as the moon and clouds. The journey has been well worth it.
Additional information