Kevin Charles (Pro) HART M.B.E. (b.1928; d.2006)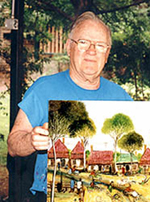 Kevin Charles (known as Pro) Hart was born in Broken Hill, far west outback New South Wales, in 1928. He grew up on a sheep station, 'Larloona', around 130km from Broken Hill. His schooling was completed by correspondence school, giving him lots of time to draw. In his early 20s, Hart moved back to Broken Hill and worked in the mines, which involved long shifts underground. In his spare time, he continued to paint and draw, sketching underground using the altered light from the carbide lamps, producing 'light out of dark' paintings. He took some art classes to finesse his style and, by 1958, had quit his job at the mines to be a full-time artist. In 1960, Hart married Raylee Tonkin and they had five children.
After being "discovered" by Kim Bonython, a gallery owner from South Australia, in 1962, his popularity as an outback artist began to climb both in Australia and throughout the world. In 1973, Hart illustrated the 'Poems of Henry Lawson' and, in 1974, illustrated the 'Poems of Banjo Patterson', both collated by Ure Smith. His illustrations reinforced his signature outback style. Combined with his irrepressible personality, he went on to a remarkable career meeting Presidents, Prime Ministers, Kings and Queens throughout the world, capturing the essence of the bush with pictures of outback icons such as race meetings, pubs and cattle drives.*
Outside of painting, Hart loved to collect vintage cars and motorbikes, was an A grade pistol shooter, and lifted weights. He owned and played the largest Rodgers Electric Pipe Organ in Australia and invented all sorts of engines and machines. Little wonder his mining mates dubbed Kevin Hart "Pro", short for "Professor," because he just about knew or could do anything.
Despite his worldwide fame and frequent travels, family continued to be important to Hart throughout his life and he continued to live at home in Broken Hill, where he died on 28 March 2006.* He was accorded the honour of a state funeral conducted in Broken Hill, with the procession to his burial site lined "by 1,000 of his fellow citizens in a cortege of vintage cars, including two of his own Rolls Royce's".**
After Hart's breakthrough first solo exhibition at Adelaide's Bonython Gallery in 1962, he garnered attention abroad. In 1973, he held his first international solo exhibition at Qantas House, London, and represented Australia at the Dusseldorf International Art Exhibition. After then, Hart held numerous solo and group exhibitions throughout Australia and internationally, including a touring retrospective of his work which opened at the Monash Gallery of Art in 2003.
In 1976, Hart was awarded an MBE for his services to art in Australia and in 1982, he received an Honorary Life Membership of Society International Artistique for outstanding artistic achievement. This is granted to only one artist per continent. In 1983, he received an Australian Citizen of the Year Award. *
Hart remains a well-loved, popular and celebrated artist by the public, despite being somewhat shunned by the art elite during his lifetime. A walk through Pro Hart's three-storey gallery in Broken Hill showed he was more than a "brushman of the bush" and leader of the outback painting movement. His private collection was magnificent, including works by John Percival and David Boyd hanging side by side with John Constable and Claude Monet. Hart said: "I think the international painters are just as important. It's good to see good Australian art mixed in with it". ***
His creative spirit knew no bounds, experimenting with 'performance art' years before it became fashionable; dropping paint from hot air balloons, creating ice sculptures and even using a cannon to distribute paint on his chosen medium. Perhaps his most famous moment came with a series of television carpet commercials. "I don't plan it. I just melt into it," Hart said.
He continued to experiment with art techniques all his life. Mainly working in oils and acrylics, Hart used any tool or method to achieve the desired outcome for his work. Insects are among Hart's most popular and most identifiable images – particularly, ants and dragonflies. He drew upon techniques of layering, chiaroscuro, glazing, scumbling, scratching and Alla prima. Hart was also a sculptor working with welded steel, bronze and ceramics. *
Germaine Greer encapsulated the attraction of Hart's art well: "What makes Hart special is his unbreakable connection with the Barrier country of far west New South Wales. His bush scenes are not just illustrations of outback life: they glow with the unforgettable light of the inland. His gangling twisted feather-top trees are portraits of the acacias and casuarinas that refract the raking sun of the desert edge in a luminous haze. … You don't get Hart until you realise that the figures that line the rails at his bush races and raise their glasses at the bush picnic are all ghosts. His lanky drovers are all long gone but the hot earth that grins through their transparent figures is still there. The gates really do hang as lop-sided and gaping as he paints them. Hart's best work … is alight with grief and passion". **
Hart's works are widely held in Collections throughout Australia, including the National Gallery of Australia, the Art Gallery of New South Wales, the War Memorial in Canberra, the Sydney Opera House and many other state and regional galleries, corporate, university and significant private Collections throughout Australia and in the U.S., U.K., Hong Kong, Israel, Egypt and Poland.
* Biography, Pro Hart website ** Australia's Lowry is finally being recognised by its artistic elite – but is it for the right reasons?, Germaine Greer, The Guardian, 8 May 2006 *** The Pro Hart Gallery: A Different form of Biography, Derham Groves, Senior Lecturer in Architecture at the University of Melbourne.
Additional information