Leonard Hugh LONG O.A.M. (b.1911; d.2013)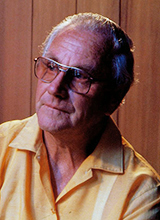 Leonard Long is the quintessential Australian landscape artist. His beautiful works in oil sublimely capture the light, morning haze, massive gum trees and still water of big rivers, particularly amid the lush green settings of his native New South Wales.
Born in 1911, Long was raised in Mittagong on the tablelands and it was here that he developed his love of the Australian landscape. In 1934 he and his wife moved to Nowra on the coast, where he gradually developed his talent as an artist while running a watch-making business.
In 1955 he decided it was time, sold the business, and became a full-time painter.
He has since had had many successful one-man shows in capital cities and regional centres, with his work represented in major gallery and private collections in Australia and overseas.
Long paints the Australian countryside with a magnificent grandeur, making great use of the unique light and ambience, and is best known for works featuring sprawling rivers such as the Crookhaven and Shoalhaven in the early light.
But a highlight saw him working in the red desert of Central Australia with famed Aboriginal artist, Albert Namajtira.
Long visited Alice Springs in 1958 and a friendly rivalry developed, with Namajtira recognised for his skilful outback scenes that also superbly captured light and texture.
Namajtira and his fellow Aranda artists at the camp-site were intrigued with a white man's perspective of their traditional land, and the pair not only painted around Alice Springs but also out west as far as some of Namatjira's favourite spots, including Glen Helen Valley and Ormiston Gorge.
At the end, the shy Namajtira gave Long a great accolade. His works, he conceded, were "pretty good …"
Additional information