Rick AMOR (b.1948)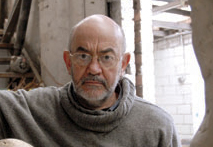 Rick Amor has the engaging capacity to create works of diverse impact.
His urban landscapes have a dull glow and strangely detached feel, showing decaying buildings, derelict factories and abandoned machinery, while in his portraits, the light is brighter and the backgrounds more precise and benign. And whereas his seascapes feature dark threatening skies, wind-lashed white-topped waves, and trees bent low before the elements, his nudes and bronze sculptures are appreciated for their elegance.
Amor was born in Frankston, Victoria, in 1948, and studied Art at Caulfield Institute and the National Gallery School under John Brack. He became an artist-in-residence at Trades Hall Council in Melbourne, honing his skills portraying workers and their industrial landscape. He first exhibited in 1974, has had regular exhibitions in city and country galleries and centres, and has worked in London, New York, Sydney, Melbourne and Barcelona. In 1999 he went to East Timor as Australia's first official war artist in 30 years.
Even though he is now a city dweller, living and working in Melbourne, Amor still paints landscapes of his childhood on the Mornington Peninsula where, as a boy, his world was defined by the waves and sand. By 12, with encouragement from his father and aunt, both hobby artists, he was painting the coastal landscape he saw around him.
Amor steps back from his work and lets it evolve, expertly applying layers of paint with loose brush strokes.
While people in his urban landscapes are often like ghosts and his paintings can be seen as a bleak image of modern Australia, he says: "I'm just a painter, I paint pictures. I'm trying to evoke a poetic feel from the stuff of nature or life."
Additional information