Zhong CHEN (b.1969)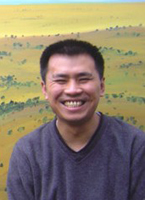 Born in China, Zhong Chen settled in Australia in 1989. From his early paintings of 1996 through to present day works, Chen continuously explores his cultural heritage and transcultural identity. Blending traditional Chinese art forms with contemporary photographic methodologies, Chen acknowledges the personal impact of both historic and emerging influences. After completing his Masters of Fine Arts from the Chelsea School of Art, London in 1998, Chen pursued his fascination with cultural issues.
Such was the impact of Chen's emerging artistic interpretations, he was honoured in 1996 as Major Prize Winner, Emerging Artist award, Adelaide and took out the 1999 Premier's Award for Emerging Artist of the Year.
Incorporating the ancient craft of Chinese ink brush painting with modern digital photographic reproduction technologies, Chen developed his pixel paintings to display and interpret his ongoing quest for a personal sense of belonging and place. Counterbalancing traditional Chinese images and ideologies with sophisticated advancements in visual communication is the hallmark of Chen's art.
Beginning with small sketches and paintings, Chen draws inspiration from everyday life, contemporary subjects and traditional Chinese ladies to blend the ancient themes of Chinese culture with a dynamic and ever-changing new world. Portraits, landscapes and animals are integral to traditional Chinese ink brush painting. Chen's pixel interpretations combine a deep respect for the culture of his birthplace with the symbolism of our contemporary, rapidly evolving world. Modern digital technology meets ancient, time-honoured culture in Chen's pixel portraits: a computer age artistic interpretation.
From the back streets of Shanghai to the exuberance of contemporary Australian culture, Chen examines, explores, questions and celebrates the transcultural identity of being an Australian artist with a proud Chinese heritage. Chen's cross cultural influences are reflected in his pixel portraits, uniting the past with the present.
Zhong Chen's unique signature pixel art has been widely acknowledged, with Solo Exhibitions throughout Melbourne, Sydney, Perth, Adelaide and New York along with many National and International Group Exhibitions. His extensive artistic achievements include 2007 Finalist for the Archibald, Wynne and Sulman Prizes, 2005 Australian Council Grant for a three month residency at the International Studio and Curatorial Program, New York and the 2003 SBS Australian Contemporary Art Award, Federation Square.
Zhong Chen's artwork is represented in the Art Gallery of South Australia, Gold Coast City Art Gallery, Western Mining, Australia Artbank, F.H. Faulding & Co., Macquarie University and Private Collections throughout Japan, China, Hong Kong and Australia.
Additional information