Michael JOHNSON (b.1938)
Michael Johnson was born in 1938 in Sydney, Australia where he currently lives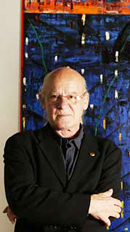 and works. From 1953 to 1959 he pursued his artistic studies at Sydney's Julian Ashton Art School and was awarded a Diploma of Art from Sydney's National Art School. Johnson relocated to London in 1960 where he painted full time and worked a Studio Assistant for sculptors Brian Wall and Anthony Coro.
In 1967 Jonson returned to Sydney and held his first two Solo Exhibitions. In 1969 Johnson moved to the United States where he lived and worked until 1975. From 1980 to 1981 he collaborated with Robert Klippel (convex/concave colour on constructivist steel-type sculpture spray painted).
Throughout his prolific career, Johnson has combined painting with a passion for educating a new generation of artists. From 1963-1985 he lectured extensively throughout the United Kingdom, Thailand and Australia, including: St Martins School of Art, London; Croydon School of Art, London; Birmingham School of Art; Sydney College of the Arts; Brisbane Arts Council, QLD; University of New South Wales, Sydney; City Art institute, Sydney; Crown Lane School of Art, Sydney; Silpokon University Malchon, Thailand.
Michael Johnson has held numerous exhibitions across the national and international art stages and was included in the seminal exhibitions, 'The Field', National Gallery of Victoria, Melbourne, and Art Gallery of New South Wales, Sydney (1968); the UNESCO Biennale, France (1968); the São Paulo Bienal, Brazil (1969); and The Australian Biennale, Art Gallery of New South Wales, Sydney (1988).
Johnson's work has received widespread recognition through multiple awards and commissions, from taking out the 1967 R.H Taft's Prize, Contemporary Art Society Annual Exhibition, Sydney, several artist-in-residence Grants including the 1986 Visual Arts Board Artist-in-Residence, University of Melbourne, the 1976 Gold Coast Art Prize (Paintings), Queensland to the 1980 Camden Art Society Prize (Works on Paper). Johnson's Commissions include his 1984 Mural, State Bank of New South Wales and 1989 work for Sydney Conference Centre, New South Wales.
Johnson draws his inspiration from the history of art. "All my favourite painters…. they still communicate to me." The artist holds a particular fascination for birds and animals and the different ways in which light plays on the back and the belly of animals. "It is just amazing that there's a top and bottom to everything, and living on the surface of the planet, one tends to relate to how the light behaves from the sun and from the earth. Animals, I find, amazing…feathers on birds. I just love animals. Humans aren't as interesting to look at." says Johnson.
Michael Johnson's work is marked by a metaphysical arrangement of colour and a charismatic robustness. His works are dreamy and idealistic in spirit; in their treatment, they are raw and perceptive, deeply connected to the artist's powerful and multi-faceted relationships with nature, the natural process and mood.
Michael Johnson explains his trademark use of horizontal bars, "The zonal thing in my work has always been there….even though it is horizontal, it has never been about landscape; it is about the recyclable thing of life. The bars or zones are a different place at a different time in space, so it is about mathematics…over and over, like in music."
Michael Johnson's works are held in Collections across Australia, including National Gallery of Australia, Canberra, Art Gallery of New South Wales, Sydney, Art Gallery of Western Australia, Perth, National Gallery of Victoria, Melbourne, Queensland Art Gallery, Brisbane, Parliament House, Canberra, in major Australian Universities and in galleries throughout Regional Australia.
Additional information