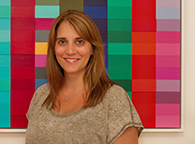 Graphic designer and artist Claudia Abrahams was born in 1973 in Johannesburg, South Africa. She pursued her artistic passion throughout school, excelling in both practical and theory in her final year exams, before going on to study Graphic Design for three years. Whilst achieving exceptional academic results, Abrahams acknowledges her early struggles with colour.

"I found it hard to put colours together when creating logos, posters etc., and relied on colour reference books to help me out. Now, all my artwork that I create is based around colour and their interaction and somehow it all just comes together" says Abrahams.

In 1997 Abrahams and her now husband relocated to London where the artist worked as a freelance graphic designer for several advertising agencies. During this time, the couple travelled extensively. In 2001 the Abrahams immigrated to Australia, where the artist continued working as a freelance designer, backed by her Diploma in Graphic Design. She worked continuously in the industry until taking a break in 2003 to turn her focus to rearing her children.

From an early age, Abrahams has been artistic and has incorporated creativity into all aspects of her life. Over the years, Abrahams has enjoyed creating art pieces for private clients and has recently released a new series for her solo exhibition at a Sydney gallery.

Abrahams draws her inspiration from such artists as Esher, Monet and Andy Warhol. However the artist's main inspiration is colour.

"Everywhere I look, I turn reality into a collage of colours in my head which I then feel I need to translate into my artworks. It is a passion that affects my everyday life in the best possible way" says Abrahams.

Whilst some of the artist's Shades of Colour series incorporate pieces within a white box frame to offer a contemporary feel, she also crafts unframed, raised off the wall artworks within a hidden box frame, allowing the shadows to cast across the wall creating its own feeling of depth.

"My art is contemporary & modern and is about creating colours and seeing their interaction. Just like my life, I need structure and order, and that is how I feel about my paintings. My art is methodical, structured and well balanced, but spontaneous at the same time. Each colour is unique and no two colours are the same," says Abrahams.

An ever-evolving artist, Abrahams uses colours, dimension and texture in her latest works to create dynamic, exciting pieces.
"I love painting and creating artworks. I hope you enjoy my artworks as much as I enjoy creating them," says Abrahams.

"I love working with colour almost as if it is a puzzle. I have created the works in the Shades of Colour series, rectangle by rectangle of colour, until they all fit together at the end to form a perfect piece" says Abrahams.

For Abrahams, finding the perfect balance of colours is both therapeutic and challenging. It is about the endless contrast between dark and light and the fascination with the way in which they play off against each other.
"My aim for whoever views my artworks is to look at it and feel the same as I do when creating the artworks, lost in a prism of colour and shadow." - Claudia Abrahams.