Gillie and Marc SCHATTNER (b.1965 & 1961)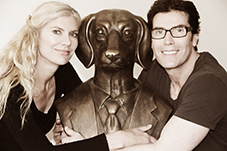 Gillie and Marc Schattner are a collaborative artistic couple, best known for their anthropomorphic sculptures. Referred to by the media as "the world's most loving artists", this artistic duo has worked side by side for 27 years, creating art as one and spreading the love they have for each other with the world. *
Gillie was born in 1965 to Catholic parents and grew up in Zambia. She never formally trained in art but realised her love for drawing by sketching all the wonderful wildlife that surrounded her, falling in love with the captivating creatures with each drawing she created. Tragically, she saw an elephant brutally shot one day. This had a profound impact on her as a young child and from then on, she vowed to dedicate her life and work to protecting Earth's innocent animals. *
Gillie moved to England and trained as a nurse. She then moved to Hong Kong and was working part-time as a model when she met Marc on a photo shoot at The Regent Hotel in 1990. **
Marc was born in 1961 and grew up in the suburbs of Melbourne. He studied graphic design at Swinburne University of Technology and went on to work in advertising. While in his twenties, Marc fell in love with conservation on a trip to Tanzania to see the work of Jane Goodall with chimpanzees. Learning from this incredible woman and the beautiful chimps, he gained a deep appreciation of all living things in their interconnectivity, and the importance of protecting the delicate balance of nature. *
When Gillie and Marc met in 1990, Marc was the creative director for the photo shoot. They were instantly attracted to each other and their relationship developed quickly, with each ending relationships with their respective fiancés to be together. After only 7 days they went on a trip to Nepal and were married in Pokhara, at the foothills of Mount Everest, in a traditional Hindu wedding. **
From Hong Kong they moved to Singapore and had two children. Marc continued to work in advertising and they both worked on their art separately on the weekends. In 1995, they moved to New York, where they lived for four years, and then moved to Australia in 1999, settling in Sydney with their two children and their dog, Moby. **
Gillie explains the start of their collaboration: "We entered the Archibald Prize separately and were becoming competitive and it was causing a little bit of friction. So, when we got the opportunity to paint [former Australian Olympic swimmer] John Konrads in 2006, we decided to do it together. We entered it as Gillie and Marc and were chosen as finalists. From that day on, everything got signed Gillie and Marc, and we paint every single canvas together."
Initially, Gillie and Marc painted and designed, but soon became very interested in sculpture. They produce sculptures in a variety of mediums including bronze, brass, steel, wood, fibreglass and polyresin. Their works have received acclaim worldwide.
Gillie and Marc were involved separately in exhibitions as early as 1984 but they first exhibited as a pair in Singapore in 1990 and went on to have joint exhibitions in New York. Upon returning to Australia in 1999, they had a joint exhibition called Life Can't Wait, painting portraits of twenty Australians who face death and were on the organ waiting list. The project was sponsored by the Australian Red Cross Blood Service and was used to create awareness and encourage the public to sign up to be organ donors. From then, they have exhibited extensively, with more than 60 solo shows and numerous group exhibitions throughout Australia, the US, Hong Kong, Singapore, New Zealand and the UK.
The Schattners have won numerous awards and accolades. In 2006, they were Archibald Prize finalists for a portrait of former Olympic swimmer John Konrads, representing his battle with bi-polar disorder. Their painting 'He'll never be famous but he doesn't give a damn, he's a musician', earned them first prize at the 2009 Chianciano Biennale, set in Tuscany. This work features a Dalmatian dog/man hybrid, playing guitar. Their life-like fibreglass sculptural piece, Bondi Coffee Dog, appeared in the Florence Biennale in the same year. Stretching controversy further is their work, 'If Jesus was alive today, he would be a skateboarder', which featured in the inaugural 2009 Blake Prize Director's Cut, an online exhibition. They won the People's Choice Award in Sydney's Sculpture by the Sea in both 2016 and 2018, as well as the Kids' Choice Award in 2016. They have been finalists in the Mosman Art Prize, Woollahra Small Sculpture Prize and Brisbane Art Prize. ***
Gillie and Marc have been called "the most successful and prolific creators of public art in New York's History" by the New York Times. Gillie and Marc say: "We are two people working as one, with a single vision — something no one else is doing in art."
The artists are best known for Rabbitwoman and Dogman who tell the autobiographical tale of two opposites coming together to become best friends and soul mates and celebrate the powerful spiritual relationship that exists between man and animal. As unlikely animal kingdom companions, the Rabbit and the Dog stand for diversity and acceptance through love. Gillie and Marc believe art is a powerful platform for change. Their art is multi-disciplinary, paying homage to the importance of togetherness, as well as the magnificence of the natural world, and the necessity of preserving it. *
The surreal, fragmented quality present in their works stems from an admiration of artists such as Salvador Dali and Picasso. Marc comments: "I think Dali was insane, but I like his insane mind and I love his works more than anything else. It's so inspiring and captivating." ****
Gillie and Marc are passionate eco-warriors. Finding an extra special place within the hearts of the artists are rhinos. This love affair began during a project memorialising a black rhino and her calf who mysteriously died in a Zoo in Dubbo. The artists were heartbroken by this tragedy and wanted to create an artwork that would not only remember the rhinos, but also raise awareness about conservation. From there they created the largest rhino sculpture in the world for Sculpture by the Sea, winning Australia's coveted Allen's People's Choice and Kid's Choice awards in 2016. In 2017 they installed The Last Three in New York City, the tallest bronze rhino sculpture on the planet, featuring the last three Northern White Rhinos, which have sadly now become two.
Social commentary is often present in their artworks. For example, in Paparazzi Dogs (2013), commissioned by Melbourne's Federation Square, viewers started to take pictures with the sculpture which, interestingly, turned them into paparazzi themselves – demonstrating the pack mentality that most paparazzi poses.****
Their art has raised hundreds of thousands in donations for the many wildlife charities and causes they support.
Gillie and Marc have created commissioned works for zoos and animal sanctuaries, universities and schools, hotels and public spaces throughout the world, including Australia Zoo, Sydney Children's Hospital, Australian Red Cross Blood Service, Canberra University, La Trobe University and Swinburne University in Australia; Hilton Hotel and McDonald's Corporate Headquarters in Singapore; Longleat Zoo, The Royal Exchange and Spitalfields in the UK and the Bruce Museum, San Antonio Zoo, Lakeshore Museum and Resorts World in the US as well as in public spaces and private collections in China, New Zealand, Canada, Indonesia and Ireland.***
* The Story, About, Gillie and Marc website ** Gillie and Marc: the couple who created Dogman and Rabbitgirl, Stephen Lacey, Sydney Morning Herald, 7 October 2016 *** Bio, About, Gillie and Marc website **** A Couple That Paints Together, Stays Together, Popspoken, The Arts, 22 December 2014
Additional information