David Michael (Michael) SHANNON (b.1927; d.1993)
Australian artist Michael Shannon was the youngest son of a farming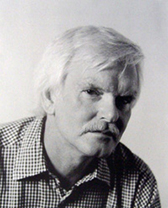 family who was born in 1927 near Kapunda in South Australia.
Shannon had a keen interest in architecture but in 1945, as an eighteen year old, chose to attend the National Gallery School in Melbourne where he was taught by William Dargie and George Bell. He then travelled overseas where he studied from 1949 to 1950 in London and Paris and was influenced by British and French painters, Graeme Sutherland, Fernand Leger and Bernard Buffet. He also visited Florence before returning to Australia in 1952 where, over the next ten years, he started to evolve his own style of painting. Apart from living in Sydney between 1960 and 1962 Shannon lived in or near Melbourne for the rest of his life.
Shannon's early life gave him an appreciation of the Australian landscape. His adult life in a city fostered his interest in architecture, panoramic city views, streetscapes and the detail of buildings, all of which were to be major themes for his paintings. Many of his early paintings were of Melbourne, including Princess Bridge (1956), The Shot Tower (1957) and Flinders Lane (1958). He also took great delight in his surroundings and painted the interiors of his homes and still life paintings of their contents. These included the commonplace such as fruit, vegetables, flowers and shoes. It is interesting that he rarely included people in his work and where they do appear they provide a sense of scale to the buildings and streets which were usually depicted as seen from the top of a roof. He did, however, paint some figurative works and one of his works, My Mabel Waits for Me (1952) won the George Crouch Memorial Prize in1953. At that time this was the second richest contemporary art prize in the country after the Archibald. Shannon won seven Australian art prizes between 1953 and 1982.
In 1980 Shannon bought a house near Heathcote (a small rural town 110 kilometres north of Melbourne) and his growing interest in and love for the landscape became the focus of his work. He produced small intimate studies of rock faces, hillsides with trees and bush tracks, through to large canvasses of hills that stretched to distant horizons. His interest was always in the everyday and natural; he often chose aspects of this that were not usually noticed. He is best known for figurative paintings of the Australian landscape and realistic work based on his domestic surroundings.
Michael Shannon deserves his place beside his better known contemporaries John Brack, Jeffrey Smart and Fred Williams. His work is held in the collections of the National Gallery of Australia, all the State galleries, many regional galleries and private collections. American institutions also hold his work.
After a career of five decades and a long battle with Parkinson's disease Shannon died in 1993 at the age of 64. His work has been appreciated more in recent years and at an exhibition in 2012 at the Art Gallery of Ballarat it received the acclaim that it deserves from Australian art critics.
Additional information