Paul BOSTON (b.1952)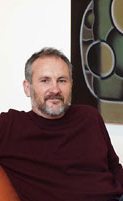 Paul Boston is an abstract artist, who was born in Melbourne in 1952, and studied art at Preston Technical School graduating in 1972. He then commenced a period of extensive travel through South East Asia where he was strongly influenced by Zen philosophy. This informed Boston's art over a successful career that has spanned more than three decades.
Boston's interest in Zen was first aroused whilst studying at Preston. John Cage's book "Silence" was of particular influence as was Andre Sollier who was a very strong teaching figure.* Sollier was a French national who had worked in Japan between 1966 and 1970.
He was a Zen master and teacher of sumi-e painting in Melbourne for thirty years. Meditation in action and the subjugation of the ego were two of the most powerful principles behind Sollier's teaching and these are two of the driving principles of Boston's approach.
In addition, one of Boston's art teachers at Preston Tech, Dale Hickey, introduced the young artist to the ideas of Clement Greenberg and the Conceptualist approach to art.
Greenberg argued in his collection of essays, published by the University of Chicago Press in 1993, that the essence of Modernism refers to the use of the characteristic methods of a discipline to criticize the discipline itself—not in order to subvert it, but to entrench it more firmly in its area of competence.
This early introduction to what is essentially a Post-Modernist concept played a pivotal role in Paul Boston's development as an artist.
"I became very conscious of the object being removed and the idea remaining, I didn't feel that I had to make art, the proposal itself was enough," Boston recalls. Nevertheless, it took some time for Paul Boston's artistic oeuvre to develop. Whilst travelling in Guatemala, he contracted hepatitis and ended up in Coppetts Wood Hospital, London in recovery. During his convalescence he began to draw a series of heads.
"I became fascinated with the marks, how the most minimal mark could mean so much to the mind, and how one could read so much meaning into something so slight. I became really fascinated with that and it led to a whole lot of work I'm still playing with, like the head images."
In 1980, and having recovered from his illness, Boston travelled to New York where he saw the Pablo Picasso retrospective at the Museum of Modern Art. In San Francisco the same year, he saw the Philip Guston retrospective at the San Francisco Museum of Modern Art. These two artists were to make an enormous impact.
"I was struck by Picasso's and Guston's freedom, invention, the play of the imagination, and the power of the imagination. Those things gave me a new spirit to operate from. I felt then that I could attempt making art."
Boston's first solo exhibition was held in 1983 at Tony Oliver's short lived but highly influential Reconnaissance Gallery in Fitzroy, Melbourne. From this first exhibition, the artist attracted the attention of some of Melbourne's most influential and best-informed art followers. Boston has had a stellar career in the decades since with his work held in high regard and new works eagerly anticipated.
It is sometimes observed that Boston's works, "never stop moving, folding and unfolding"; requiring time and attention, they encourage and reward contemplation. He has held more than twenty solo exhibitions in Melbourne and Sydney and has been included in many group exhibitions both in Australia and overseas. His body of work has been the subject of many discourses through catalogue essays, critical responses and treatises published through catalogues, books, periodicals and the press.
Paul Boston is noted, too, for other works including his portrait of artist Rick Amor, which is part of the collection of the National Portrait Gallery in Canberra. He has won awards throughout his career including the John McCaughey Memorial Art Prize, National Gallery of Victoria in 1991; the inaugural Savage Drawing Prize Melbourne 1987; and National Works on Paper Award, Mornington Peninsula Regional Gallery, 2004.
Boston's work is held in major public and private collections in Australia and overseas including National Gallery of Australia, Canberra; National Gallery of Victoria; Art Gallery of NSW; Art Gallery of Western Australia; Museum of Contemporary Art, Brisbane, as well as regional, corporate, and university gallery collections.
* This and all other quotes drawn from Kon Gouriotis interview with Paul Boston, Artist Profile, 30 August 2016. by Wordmakers 2018.
Additional information