Yoko MUKAI-CAMPBELL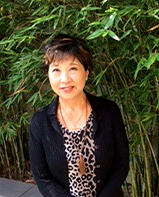 Yoko Mukai-Campbell was born in Japan in 1952 and completed her primary schooling in Nara, where her artistic flair was noted by her teachers, who encouraged her drawing and painting. She attended secondary school in Sydney after her father was posted there in 1964. Thrown into an all-girls high school in a multi-cultural Australia which still embraced a White Australia policy, she found the immersion into a totally different language and culture a turbulent but exhilarating experience, and one which would subsequently fuel her creative endeavours. Many of her works since have focused on cultural displacement and cultural assimilation. She matriculated in 1969 with art marks among the top ten in the state, but her dream of studying Fine Art was thwarted when her family returned to Japan and she was unable to pursue tertiary studies in Art.
However, during her university years in Tokyo she was an enthusiastic member of an arts club and exhibited in numerous galleries in Tokyo. She completed a BA in Arts in Tokyo, but subsequent employment, marriage and the birth of a son put further artistic activities on hold. In 1986 her husband was posted to Melbourne, where she has lived ever since. Her marriage failed soon after arrival in Melbourne, and she turned to teaching Japanese, pursuing teaching qualifications and being the breadwinner for her son.
In 2008, after her son returned to Japan ("leaving a hollow in my heart") she was finally able to embrace her first calling and enrol in the Diploma of Visual Art course at RMIT, graduating in 2010. Since then she has explored a range of media, including watercolour, oils, acrylic and sculpture.
Soon after graduation she joined Swan Street studios in Richmond, where she has relished working with experienced artists like Sally Madden and Robin Stewart. In particular, David Milne, one of Australia's most celebrated contemporary artists, has been an enthusiastic supporter of Yoko's talent, and Yoko acknowledges that her part-time role over the last three years as David's studio technician has influenced her own work.
She is a widely-respected teacher of Japanese in Melbourne's TAFE and tertiary sectors, having taught at Melbourne, Monash, Swinburne, RMIT and La Trobe universities, and introduced many hundreds of Australian students to Japanese language and culture.
Most of Yoko's works involve an exploration of her own experiences as a citizen of two cultures, and a member of a family forever riven by geographical and cultural distance. She is now married to an Australian but visits her son and grandchildren in Japan regularly, and is currently involved in restoring her family's ancestral property in Nara.
Yoko would not call herself a deeply religious person, but she feels that her upbringing in Japan's indigenous Shinto ('way of God') faith has had a lasting impression on her outlook on life and art. Shinto's animistic concept of kami bestows a spirit or power on all animate and inanimate objects and places. Her landscapes and animal sculptures thus contain visceral elements of the almighty and serve to expel bad omens.
The "Hokusai dog", dubbed "Inu" (which is the Japanese word for dog) is a replica of her much-loved first pet, which she had to leave in Nara in 1964, and which died soon after her departure. 'INU' is one of a Series, in which Yoko experiments with various means of adorning animal sculptures.
She sees the turbulence of Hokusai 's great wave as something of a metaphor for the occasional rough seas in her life. After all, "Yoko" means "child of the oceans" in Japanese.
Additional information