John de Burgh PERCEVAL A.O. (b.1923; d. 2000)
"He painted every picture as though it were his last."*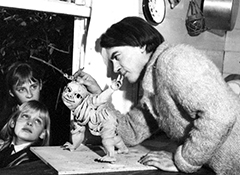 John Perceval (1923-2000) was an outstanding painter within a generation of visionary Australian artists. Like his contemporaries and friends, Arthur Boyd (1920-99) and Sidney Nolan (1917-92), Perceval was one of the most original landscape painters of the post-war period in Australia. During the now infamous forties in Melbourne, Perceval was very much a part of the avant-garde group of visionary artists that gathered and shared ideas at the Melbourne home, 'Heide' belonging to the ambitious and influential art collectors John (1901-81) and Sunday Reed (1905-81). To say this group comprising Perceval, Boyd, Nolan together with other icons of Australian modern art, Albert Tucker (1914-99), Charles Blackman (1928-2018) and Joy Hester (1920-60), 'revolutionised' Australian art is an understatement. These artists became known as the 'Angry Penguins' and 'Rebels and Precursors' and were to irrevocably change the nature of art in Australia. Perceval was among the youngest exhibitors at the Contemporary Art Society, first included at age nineteen.

Perceval led a complex and tragic life, marred by illness and alcoholism. Born Linwood Robert Stevens South in Western Australia in 1923, Perceval spent the first twelve years of his life on his father's wheat farm. His mother then brought him to Melbourne, and he assumed his stepfather's name, so becoming John Perceval. At the age of fifteen Perceval fell victim to polio and spent a year bedridden. His fondness for drawing and painting was consolidated whilst his activities were so limited during his recovery. He later met Arthur Boyd during his service in the army, his gateway to the Melbourne artists that gathered at Heide. In 1944, Perceval married Mary Boyd (sister of Arthur) though Mary subsequently married Nolan.

Perceval painted little that might be considered strictly landscape until relatively late in his career. It wasn't until 1956 that he concentrated his interest on the landscape subject. During the early fifties Perceval almost stopped painting altogether, and certainly didn't produce any major works. He emerged with an entirely new approach to painting: ebullient and reinvigorated, motivated and technically governed by emotion. The confident hand of the mature artist evident in every paint laden stroke. During the late fifties Perceval was awarded many of Australia's most important art prizes. In 1958 he was awarded the National Gallery of Victoria's 'John McCaughey Prize and in 1960 he won the prestigious Wynne Prize in 1960 (shared with Laurence Scott Pendlebury (1914-1986)). By the sixties Perceval was a huge critical and financial success. His painting 'Sulphur Smoke' 1959 from his early Williamstown series was in 2000 the highest selling artwork by an Australian living artist.

Perceval famously worked outdoors, tending most often toward landscapes of the Australian bush with dense undergrowth in locales around Melbourne and Victoria. As Perceval reflects with rich insight into his practice:

"At times my work is primarily a response to the subject, to light and trees, air, people etc. Whatever success it may achieve is due to a desire to equate the vitality, the pulse of life in nature and the world around us." **

That 'pulse', that essential life force is at the nexus of Perceval's oeuvre across a career spanning five decades.
*John Brack cited in Plant, Margaret, 'John Perceval 1923-2000', Art and Australia, np.

**John Perceval cited in Reed, J., 'New Painting 1952-62', The Arts in Australia Series, Longmans 1963, p.28

Additional information