Janet DAWSON (b.1935)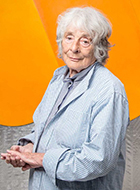 Janet Dawson was born in Sydney in 1935. After growing up in Forbes, she moved to Melbourne and studied at the National Gallery of Victoria Art School under Alan Sumner. Whilst there, she won various Gallery Art School Prizes including the Grace Joel Scholarship, the Hugh Ramsey Portrait Prize, the National Gallery Society Scholarship in 1955 and the National Gallery of Victoria Travelling Scholarship in 1956. Janet used the latter to travel to London and study under Ceri Richards at the Slade School of Fine Art. In 1959 she won the Slade School lithography prize which included a Boise scholarship that enabled her to travel to Italy where she concentrated on drawing landscapes in abstract. From Italy Dawson went to Paris where she worked as the only woman among five printers at a lithography studio, the Atelier Patris. She translated her own Italian drawings into lithographs with bold lines, strokes and colours.
Returning to Australia in 1960, Dawson founded and ran the avant-garde print workshop at Gallery A in Melbourne. She became an accomplished lithographic printer of her own works as well as other renowned Australian artists, including Fred Williams, John Brack, John Olsen and Roger Kemp*, a theatre-set and furniture designer. She was also an occasional model for fashion photographer Bruno Benini.
In 1968, Dawson married the British playwright and actor, Michael Boddy (1934 – 2016). In 1974, Janet and Michael moved to a remote property at Scribble Rock, near Binalong, NSW, where they lived for some forty years. After Michael's death in 2016, Janet relocated to a family property at Ocean Grove, Victoria, where she continues to paint and draw the ocean.**
Early in her career, Dawson was involved in the Colour Field movement - abstraction that used flat, solid hues to make colour its own subject. She was among the artists exhibited in The Field at the National Gallery of Victoria in 1968. The exhibition opened to much controversy, but launched the careers of many of the young artists. Dawson was one of only three women artists in the exhibition.
Her work has been the subject of numerous survey exhibitions including the National Gallery of Victoria in 1979, the National Gallery of Australia in 1996, and a nationally touring show in 2006.
As well as the numerous scholarships and prizes she won as an art student, Dawson earned fame for winning the Archibald Prize in 1973 for her portrait of her husband, Michael Boddy Reading.
In 1977, she was awarded an MBE for services to art. Having been introduced to contemporary abstraction studies in England, Dawson is known as a forerunner of abstract painting in Australia in the 1960s and her inclusion in The Field exhibition. However, her art traverses many more styles than pure abstraction. She has a love of drawing and, together with her traditional art school background, she learned a love of the gentle graphic medium of lithography whilst in Europe.
Her early lithographs of the Italian landscape, made during 1960 and her time working at Atelier Patris, reflect the inspiration of contemporary European and American abstraction on her imagery. This landscape was "rendered with broad strokes; waves, marks and symbols filled the paper. Conventional depictions of hills and valleys were transformed into sensual lines and motifs." ***
After moving to Binalong, Dawson's work became more engaged with the qualities of the natural world, with her style moving between abstraction and figuration and between formalism and realism. She has produced many works inspired by the Australian landscape, including her local Balgalal Creek.
As Dawson said in 2017: "I have an animistic turn of mind, so I'm always seeing faces in the shadows and all that sort of thing. I fell back in love with the world when I went and did scientific drawing, and I thought my calling was to really examine the natural world. So, my work has been what I call adulterated abstraction, because there is nearly always a figure or an animistic image behind what I do. I can't help that, it's just my nature. After struggling a bit in the days of hard abstraction, I thought, this is not me, really." ****
Janet's works are held in Collections across Australia, including the National Gallery of Australia, the Art Gallery of New South Wales, the National Gallery of Victoria, the Art Gallery of South Australia and many other regional galleries, corporate and private Collections throughout Australia as well as at the Royal Society, London.
* Janet Dawson, National Gallery of Australia ** Janet Dawson by Dr Sarah Engledow to accompany Summer 1986 for the Popular Pet Show, National Portrait Gallery *** Janet Dawson, National Gallery of Australia **** Janet Dawson on making abstraction sing, Rebecca Gallo, Interview, 7 March 2017
Additional information