Luis Gerardo MUJICA GONZALEZ (b.1982)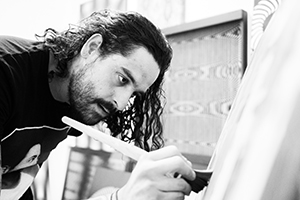 Artist Luis Mujica was born in 1982 in Valencia, Venezuela. For Luis, art training began in 2001 at the famous Venezuelan Plastic Art School "Arturo Michelena". Heavy on art history and applied art, Luis worked and studied under the renowned Venezuelan master painter Francisco Bugallo, who directly lead and influenced him with his vision of thinking beyond a rational point.
The art school teaching method was to study art history and to receive practical guidance and full supervision in the studio, this was applied to exploration and discovery of the student's personal pathway to his art.
Strong drawing and construction allowed Luis to take vital disciplines in composition and painting technique and to lay down a powerful base to his work.
From his educational base in Realism, Luis took up the study of the Russian Avantgarde painter, Kazimir Malevich, with a desire to create real abstraction , Luis first worked in the laneways of Valencia as a street artist, where he experienced and learned perspective, how to mix colours precisely and the freedom of communication artistically.
It was 2011 when Luis first arrived in Australia, what was expected to be a short stay extended to almost a decade, leading up to him becoming an Australian citizen.
During the last six years he started setting out his ideas, realising the necessity to keep exploring and experimenting alternative concepts for his art. This led him to digital art, using his computer as a contemporary tool. He was looking to create a more detailed subject of lines crisscrossing and interposing each other giving a sense of eye motion, described by him as kinetic abstraction. During this digital phase, he was pleased with the results and created a number of works for private collections in Sydney.
However, he missed the techniques taught to him in art school and the personal touch of applying each layer of paint by hand, with the heart and eye of an artist. He wanted to challenge himself to recreate with his hands the precision given by the technology, this characterized his latest works, an expression of repetition of patterns to culminate in perfect harmony of colours and lines, almost as if he was trying to mimic the constant repetition of human movement and routine during life, trough the destruction of form giving an abstract finish.
When he moved to Melbourne, he participated in the First Latin American Art Exhibition in St Kilda (2018). Soon after, he had the opportunity to continue his work at the Swan Street Artist Studios in Richmond, where he met professional artists with different backgrounds and long careers, such as David Milne, who has being mentoring and guiding Luis in his path to perfecting his technique through light and colour pushing the boundaries of his mind.
Additional information