Michael BERRY (b.1951)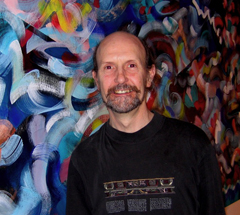 Life is Art, and Art is Life.
For Melbourne visual artist Michael Berry life and art are intrinsically and deeply interwoven. He explores and questions as much with his paint brush as with his mind, acting from the understanding that thought is a technical instrument of measurement as comparison, and that emotion has it root in thought as psychological imagination.
His lifelong commitment to universal questioning is the catalyst for his art. Ego and self have no place in his artistic landscape; each painting expresses the state of human consciousness and its measurements of who we are, against a background of perceptive reality.

"The art itself is not what is important - it is the challenges one sets and the questions asked while doing it that truly matter. Insight arising from those questions will bring about insight in the work." Berry says. He passionately maintains that the integrity of the technical visual language is a vital element of his life philosophy and informs his approach to painting.
"Great drawing skill is essential to fine painting," Berry says. "How else to bring together the relationship between line, symbols and colour on a two-dimensional sheet of paper or canvas, and create a corridor of light and space in which it all exists." After an initial foray into scientific research and illustration, he began his never-ending quest of artistic enquiry. It is the true relationship of visual imagination in our human thinking processes that fascinates and motivates him.
A visual paradox, Berry's paintings are at once bold yet delicate, complex yet simple. By creating multi-dimensional works that place equal importance on negative and positive spaces, he opens interpretation to the viewer. Geometric lines and bold vibrant colours, often at odds with conventional colour theory, push us into what Berry calls 'intensity of spatial depth'.
He says "….the pure art language that has developed - and indeed continues to evolve technically- is essential to pictorial understanding and makes a work truly profound, beautiful, logical and multidimensional."

Berry invites us into his "symphonic space" where a total spatial flexibility exists, and throws out the challenge for us to use peripheral vision to see beyond the pictorial surface. Michael Berry is a prolific published author, penning books and prose, and is the arts correspondent for the Mornington Peninsula Visitors Guide.
Commissions include large international artworks for a Marina in Singapore and public sculptures in regional Victoria. He has shown at the National Gallery of Victoria and held solo exhibitions in Adelaide, Sydney and Melbourne, as well as group and solo exhibitions in regional galleries, and numerous group exhibitions in commercial galleries.
Berry's respect for the way in which the human brain visually functions results in highly creative, individual works that breathe of past memories and experiences, combined with the interpretations of absolute immediate perception. Through his quest for continual exploration and questioning, Michael Berry seeks to expandthe universalvisual language of art.
Additional information