Hazel DOONEY (b.1978)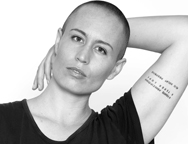 Hazel Dooney 'Rule Breaker' is the subject of the cover story for the latest issue of US magazine 'Obvious'. The cover image and story are accessible via this link: 'Rule Breaker - Obvious Magazine'
In 2001, when she was just 22, Hazel Dooney was the only female artist invited to join nine, very well established, middle-aged Australian male artists – including John Olsen, Tim Storrier, David Larwill and Robert Jacks – on an artists 'expedition' to central Australia. This unusual journey was the subject of an ABC TV documentary, The View From Here, directed by Liz Jones, and a best-selling coffee table book, William Creek And Beyond. The resulting artworks toured museums and regional galleries all around Australia.
Since then, Hazel Dooney has emerged as one of the Asia-Pacific region's most controversial female artists of her generation. According to the Australian Financial Review, she "walks the razor's edge between respect and celebrity in today's art world". Her works are included in private and institutional collections in Australia, New Zealand, Hong Kong, Japan, S.E. Asia, the United Arab Emirates, the USA, the UK, France, and Israel.
Two years ago, Dooney was the only female artist under 30 with works included in the prestigious sale of Modern and Contemporary Australian Art, held at Christie's in London: the auction set new records for major works by Brett Whitely, Arthur Streeton, Frederick McCubbin, Sydney Nolan, Arthur Boyd, Fred Williams – and Dooney herself.
As Michael Reid wrote, in a feature titled Contemporary Artists To Watch, for The Australian newspaper, several years ago, "Peter Booth, Hazel Dooney, Jeffrey Smart... are all members of a select breed of artist who, for the benefit of all concerned, cast a somewhat critical and even destructive eye over their artwork. These artists do not turn out bad art.
Additional information