Wendy SHARPE (b.1960)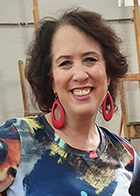 Wendy Sharpe was born in Sydney in 1960 to British parents. Her father is the writer and historian, Alan Sharpe, who Sharpe credits as the biggest influence on her career: "He was someone who had a work ethic and imagination. Any creative pursuit needs a combination of the two." As to where her urge to paint comes from, Sharpe says she has loved drawing people since she was very young: "All children paint and draw, but I did more than most and never stopped." At school in Sydney's Avalon, Sharpe was always asked to do the illustrations for the magazine and the backdrops for drama productions. *
After Sharpe left school, she undertook an Art Certificate at Seaforth Technical College between 1978 and 1979. She went on to complete a B.A. in Visual Arts at the City Art Institute in Sydney and then trained to be an art teacher, completing a Graduate Diploma of Education in Art at the Sydney Institute of Education in 1983, followed by a Graduate Diploma of Professional Art at the City Art Institute in 1984. In 1992, Sharpe completed an M.A. in Fine Arts from the College of Fine Arts, University of NSW. She was awarded both a Fellowship of the National Art School in Sydney and a Fellow of the Royal Society of NSW in 2018. **
In 1999, Sharpe was appointed an Australian Official Artist by the Australian War Memorial, to observe and document Australia's peacekeeping force in Dili, East Timor just after independence from Indonesia. She was the first female artist to be appointed to such a role since WWII. This experience inspired her to become a member of the Council of the War Memorial, a position she held from 2005 to 2013. ***
Sharpe also has an interest in marginalised groups, including refugees and asylum seekers and women. In 2014, Sharpe created a series of portraits of asylum seekers in Australia, Seeking Humanity: Portraits and Stories of Asylum Seekers and Refugees. In 2015, she became an Ambassador for the Asylum Seekers Centre in Sydney, a not-for-profit that provides personal and practical support to people seeking asylum in Australia. Her recent work includes the Catherine Hamlin Fistula Foundation project depicting obstetric fistula survivors from Ethiopia and the Women's Empowerment Mural in Newtown, portraying women of all ages and ethnicities, including Aboriginal elder and activist Aunty Jenny Thomsen.
Sharpe has a great passion for the performing arts and has created many works on this theme through residencies with the Australian Ballet (at the Arts Centre Victoria, 2008-9) and with Circus Oz in Melbourne and Sydney (2015-2016). She is also a regular judge of many art prizes including The Sulman Prize, the Blake Prize and the Brett Whiteley Scholarship. **
Sharpe's partner is artist Bernard Ollis. They live in Sydney but spend a significant part of every year at their studio in Paris. Sharpe loves to travel widely and has undertaken international artist residencies in many countries including France, China, Iran, Mexico, United States, Egypt, Morocco, Uzbekistan, Italy, Syria, the Arctic and Antarctica.
Sharpe held her first solo exhibition, Sex and Death, at Nicholson Street Gallery in Sydney in 1985, the same year that she was a finalist in the Sulman Prize for the first time. Since then, she has held over 60 solo exhibitions, as well as numerous group exhibitions, around Australia and internationally.
Sharpe has been awarded numerous prizes including The Sulman Prize in 1986 for Black Sun – Morning and Night, the Archibald Prize in 1996 with Self-portrait as Diana of Erskineville, two travelling scholarships and the Portia Geach Memorial Prize in 1995 and 2003. She has been a finalist in the Sulman prize twelve times and in the Archibald Prize six times, most recently in 2020. Major commissions include an Olympic size mural for Cook and Philip Aquatic Centre in Sydney.
Sharpe is an artist through and through and has said that there has "never been anything else" that she wanted to do: "I didn't know if I would be able to make a living from it but I knew I would be doing it regardless".*
Sharpe is known for her strong figurative paintings, her use of narrative and a sensuous use of paint, being the "quintessential romantic painter".**** Her work includes imagery of the everyday as well as self-portraits and alter egos. She openly distances herself from contemporary, abstract art, saying: "People are interested in stories and other human beings. Not everything has to be incredibly cool and ironic." Her paintings have been described as "bursting with life, colour and movement, depicting love, passion and relationships". *
Sharpe works in various mediums but painting is her favourite form of art: "Painting – and it is paintings I am most interested in – appeal for many different reasons: the idea, the subject, composition or paint application. I am not interested in most landscape painting, nor the cool and minimal, preferring the unashamedly subjective." *****
Sharpe's works are held in Collections across Australia, including the Art Gallery of New South Wales, the National Portrait Gallery and the State Library of NSW as well as the Australian War Memorial in Canberra, the ANZAC Memorial in Sydney and many other state and regional galleries, corporate, university and significant private Collections throughout Australia and at the Australian Embassy in Paris. *
Profile: Wendy Sharpe, Lucinda Schmidt, Sydney Morning Herald, 20 September 2006 ** CV & Bio, Wendy Sharpe Website *** Wendy Elizabeth Sharpe, East Timor 1999-2013, Australian War Memorial **** Wendy Sharpe Intro, Wendy Sharpe website, November 2016 ***** The art that made me: Wendy Sharpe, Art Gallery of NSW
Additional information