David Keith MILNE (b.1946)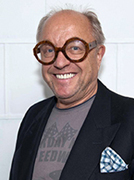 Born in 1946, in the mists of the Scottish Highlands, Melbourne artist David Milne paints a personal and collective social conscience, as a commentary and a symbolic reflection of the human condition within a greater universality.
From studying painting in 1966 at the National Art College, Sydney Tech., Milne moved to London as Art Restorer for the London Galleries before returning to Melbourne in 1971. A passionate painter with a deep social conscience, Milne's vivid insights have been represented at over 21 major solo exhibitions, 18 group exhibitions, including a 2 man show with John Perceval, an Australia-wide touring exhibition with Museum Victoria (1993-1996), two solo shows at Spoletto, Italy, and the Australian Embassy, Tokyo.
David Milne is acknowledged as the 'Contemporary Alchemist', drawing on the symbology of early 17th century alchemy to provoke thought of the impact of technological advancement on our planet.
The intricate planning and meticulous, time-consuming execution belies the perceived simplicity of Milne's work. Begun in Shanghai in 1999 and finished in Australia in 2005, Milne's Acrylic on cotton duck, "The Bright Red House, A Cheerful Sight, Happy all day, meditating all night…" fires the imagination to see beyond the simple abstract interpretation.
From his early upbringing on his grandfather's farm in Scotland, Milne developed a lifelong stance against the genetic modification of foods. It is a personal passion that is reflected in much of David Milne's work. Agricultural elements, a love of the purity of nature and an abiding commitment to raising public awareness through his art underscore the essence of his bold abstract paintings, aglow with colour and depth.
Milne's Acrylic "Transformed From Stone & Cloistered Cell, Restored To Heaven Like Choral Bell" uses shape, texture, and the colours of sustained life to create an uplifting celebration of possibilities.
Sculpture Commissions in 2002 and 2003 saw Milne's works feature in the foyer, 34 Queen Street, Melbourne and 441 St. Kilda Road, Melbourne, with private and corporate collections throughout Australia, Europe, China and Japan. Widely featured across major publications, and The ABC Sunday Arts program in June 2006, David Milne is acknowledged as one of the most important contemporary Australian artists.
David Milne brings his passionate and powerful social commentary to life with vibrant, crafted layers of acrylic and meticulous pen-work, to reflect the complex concepts that question our todays and challenge our tomorrows.
Additional information